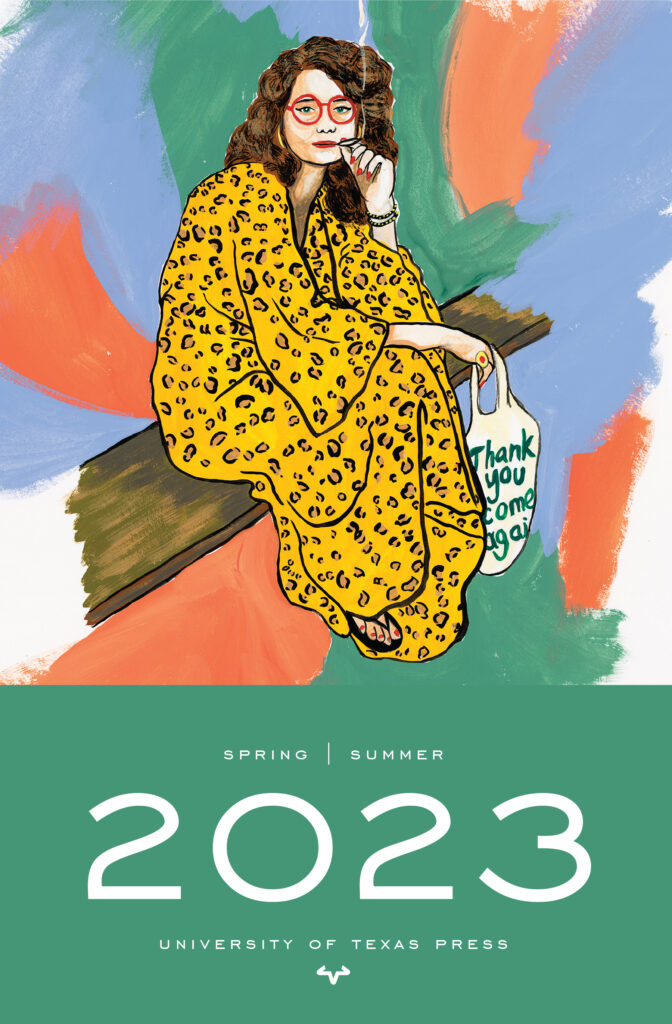 Our Spring | Summer 2023 Preview
It's a new year of books, and we're here to add weight and depth to your reading lists for 2023, without apology! Below, we preview a generous armful of titles that we're excited about this year. These picks only scratch the surface of our Spring | Summer 2023 catalog, though, so don't deprive yourself of a quick catalog browse for our full list of new releases and new paperbacks. Among important contributions to our core disciplines—Latin American studies, border studies, Latinx & Chicanx studies, architecture, and more—are fantastic new books on music, sports, and nature. Take a look below!
Ramblers, Wild Gamblers, and Other Sole Survivors from the Songs of Steely Dan
By Alex Pappademas and Joan LeMay
"Having made several attempts to concoct a blurb that might display some of the thoughtfulness, cleverness, craft, wit, style, and strong point of view that are the hallmarks both of this book and of the band it so fiercely and fannishly and lovingly analyzes, I'm just going to give up and write the simple truth: I adored it."

Michael Chabon
By Allyson McCabe
"Why Sinéad O'Connor Matters is a thought-provoking look at one of the most influential artists and activists of our time that ultimately asks, "Why did we abandon her?" In her time of need, when she needed support, when she stood by her values–her audience trusted the industry more than the artist. I hope this book is read by those who don't know Sinéad's story, and those that do will gain insight into the pain and punk ethos she still stands for. Allyson McCabe makes us all want to ask Sinéad for forgiveness and, one hopes, ask ourselves how we can do things differently."

Sharon Van Etten
By Steacy Easton
"Tammy Wynette matters, Steacy Easton argues, because (among other things) she was a great artist, capable of wringing from her songs emotions and resonances unfathomed even by their authors. Deeply informed and brimming with original insights, this book brilliantly illuminates the artist and the woman without shrinking from her complexities or contradictions."

Nadine Hubbs, author of Rednecks, Queers, and Country Music
Houston's Sign-Stealing Scandal Explained
Edited by Jonathan Silverman
"When it comes to cheating, the 2017 Astros are tied with the 1919 White Sox and the 1951 Giants. This collection by reporters and scholars sheds light on how the team might have pulled off the deed and explores the ethics (or lack thereof) of using both old-fashioned and modern methods to gain advantages in baseball. Astros and Asterisks will enlighten fans and haters alike."

Jorge Iber, Texas Tech University, author of Señor Sack: The Life of Gabe Rivera
Baseball and Politics in the Dominican Republic
By April Yoder
"Pitching Democracy makes a major contribution to our understanding of a very complex period in Dominican history, one that has not received the sustained attention it deserves. Yoder's richly researched, crisply written book presents an original and compelling argument: that historians of politics should pay attention not only to the executive branch of government but also to various state–civil society interactions, of which baseball offers an excellent example."

Robin Lauren Derby, UCLA, author of The Dictator's Seduction: Politics and the Popular Imagination in the Era of Trujillo
By Cindi Sirois Collins and Asher Elbein, with illustrations by Julius Csotonyi
"Big Bend National Park is a fossil wonderland, its desert rocks brimming with stories of vanished seas, forests, and floodplains. There's no better guide to these otherworldly slices of time than Dinosaurs and Other Ancient Animals of Big Bend. Part field guide, part imaginative exploration of long-gone creatures and their habitats, this book is essential reading for anyone who wonders what life was like all those thousands and millions of years ago."

Riley Black, author of The Last Days of the Dinosaurs
A Naturalist in the Texas Hill Country
By David M. Hillis, foreword by Harry W. Greene
"Each chapter in this utterly engaging book is a finely crafted chronicle of a unique Hill Country treasure. Taken together, Armadillos to Ziziphus is a master class in the singular geology and ecology of the Hill Country led by its most renowned naturalist. A delight to read and ponder!"

Juli Berwald, author of Spineless and Life on the Rocks
Female-Driven Films from Pitch to Premiere
By Courtney Brannon Donoghue
How female directors, producers, and writers navigate the challenges and barriers facing female-driven projects at each stage of filmmaking in contemporary Hollywood.
Landscape, Memory, and Commodities in China's Contemporary Borderlands
By Xiaoxuan Lu
How China's borderlands transformed politically and culturally throughout the twentieth and twenty-first centuries.
Voices from the Diaspora
Edited by Aram Mrjoian
"Each of these extraordinary essays is a life altered by a century-old genocide, illuminating not only the recognizable aspects of political violence but its hidden, cruel subtleties—how it always lingers, but lingers differently. As heavy and dazzling as a geode."

Patrick Nathan, author of Image Control: Art, Fascism, and the Right to Resist
Browse and preorder more Spring | Summer 2023 books here!