Every week, our wonderful publicity team tracks the cross-platform media coverage our authors and their books receive. We're proud to share our latest and greatest highlights below with links to where you can read more about these great titles!
Howdy, folks! Since we last spoke, The Texas Book Festival announced their full lineup for this November's Festival, including authors attending for 11 of our books:
The full lineup also includes authors of books from our distribution partners:
Margo Price, Jesse Sublett, and Lance Scott Walker also received shout-outs in a preview of the festival at MySA.
We're starting this week's roundup with Texas, a very popular subject for the media outlets in the last few weeks. Music and Middle Eastern Studies got a fair amount of attention as well, with special attention to titles in our American Music Series and Center for Middle Eastern Studies collections—Emerging Voices from the Middle East and Modern Middle East Literatures in Translation.
Hope and Hard Truth came out the gate to some nice attention from Texas media, including an interview in Texas Monthly with Katy Vine—"Remembering When Texas Was Run by Women"—reviews in the Texas Observer and at the Austin Chronicle, and interviews in Houston Matters and the Texas Standard. Reviewing the book for the Observer, Julie Poole writes, "Rogers memorably illuminates crucial passages of Texas liberal history," going on, "Rogers'[s] prose is so good-natured and pleasant to read, it's a bit like sitting on the porch with a wise friend, savoring a pitcher of hibiscus iced tea until the fireflies emerge." Poole concludes, "Hope and Hard Truth [is] far more than a memoir. It's a teaching guide for citizen students of Texas politics—a syllabus of movements to study, unsung heroes to know, and actions to take that could potentially activate a blue wave." In the Austin Chronicle, Michael King writes, "[Hope and Hard Truth] is a reflective memoir of a time when patient, rational, progressive politics seemed to have a real chance to mold a different future for all Texans. Mary Beth Rogers, Ann Richards, and their generational cohort did what they could to lay a foundation for a more inclusive, generous, and productive Texas. That work will have to be built upon by those who have followed." Rogers's September 20 event at Brazos Bookstore in Houston was also included in a piece on the "Top 10 Book & Author Events in Houston: September 2022" at 365 Things to Do in Houston.
The Writers' League of Texas announced the winners and finalists for their 2021 Book Awards, which include both Far from Respectable and A Single Star and Bloody Knuckles as finalists in the nonfiction category.
Edward Carey, author of Plagues & Pencils, was interviewed about his book at Sightlines. Introducing the interview, Thao Votang writes, "[Plagues & Pencils] records the tumultuous events throughout the year [of 2020], shows readers how imagination can derive enjoyment from the routine, and reminds us that, maybe, small things can help us survive."
Plagues & Pencils was also included in a new releases list at Book Riot.
Friday Night Lives was mentioned in a remembrance of Coach Gary Gaines at the Dallas Morning News.
Maybe We'll Make It was announced as an IndieNext selection for October, as shared at the American Booksellers Assocation. Keaton Patterson from Brazos Bookstore writes, "Margo Price's memoir serves up what it takes to make it in country music. All the heartbreak, sacrifice, bad choices, late nights, triumphs, and travails that have made her one of the hardest working women in country music today are here." Maybe We'll Make It was also included among BuzzFeed News's "35 New Books You've Got To Read This Fall." Emerson Malone writes, "[Maybe We'll Make It] documents [Price's] prolonged plight and the unsung truth of breaking into the biz: It's not glamorous," concluding, "Her candid memoir takes the reader on a life-affirming journey."
Fangirls was mentioned in a write-up on Kaitlyn Tiffany's Everything I Need I Get From You at Refinery29.
Stephen Deusner, author of Where the Devil Don't Stay, was interviewed, and his book mentioned, in a remembrance of Wes Freed at Birmingham's CBS 42 after Freed passed away this week. Freed was the visual artist behind the Drive-By Truckers' distinctive style, and contributed his art for the cover of Where the Devil Don't Stay. Additionally, a February interview with Deusner was re-aired last week on Indiana Public Media's "Inner States."
Vivien Goldman, author of Revenge of the She-Punks, was the subject of a feature at the Washington Square News, NYU's independent student newspaper, discussing her book in the piece.
Egypt's Football Revolution was reviewed at Sport in History. Sevket Akyildiz writes, "[Egypt's Football Revolution's] analysis of revolution, football emotion and masculinity enlightens the reader about what happened in the North African country during the last twenty years, and how Egyptian male football Ultras and the Egyptian government felt about it." Akyildiz goes on, "Rommel's knowledge of the subject is deep and broad. He has spent long hours viewing the game at stadiums and interacting with young Egyptians, and his participant observation of the Ultra fans in particular reveals their oral histories' emotionality and value. This makes the work a reminder to historians who might otherwise emphasize archival texts and documents, of the deep feelings that motivate individuals, and allow for their manipulation by others."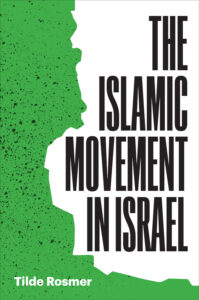 Tilde Rosmer, author of The Islamic Movement in Israel, was interviewed for the New Books in Middle Eastern Studies channel of the New Books Network.
Five of the Center for Middle Eastern Studies' titles were included in an "Engaging Books" feature at Jadaliyya, highlighting "Emerging Voices in the Middle East": Ibn Arabi's Small Death, A Bed for the King's Daughter, Poetic Justice, I Saw Her in My Dreams, and Thunderbird.
Omise'eke Tinsley, author of The Color Pynk, wrote a piece for the Boston Globe together with her partner, Matt Richardson, titled, "Find your Black LGBTQ joy; it's your superpower: Couple affirms queer daughter with a deep sense of safety, validation, and love."
As Above, So Below was mentioned at Texas Monthly in a write-up of the Webb Gallery included in "9 Must-Visit Art Spaces Outside the Texas Triangle."
Selling Black Brazil was reviewed at NACLA. Caio Fernandes Barbosa writes, "[Selling Black Brazil] is a fundamental critique of the utilization of Blackness in Bahia," going on, "The book exposes how tourism, the arts, and elite politicians think about Blackness, and by extension how limited this mode of thinking is. Romo shows how elites can move to capture cultural policies and instrumentalize them according to their interests."
A slightly modified version of the recent Red Fault review of Civil Rights in Black and Brown was published at Against the Current.
Inventing Indigenism received an "In Brief' review in the most recent issue of the Times Literary Supplement. David Lehmann calls the book, "[An] engagingly written and meticulously researched book," and praises it further in the review's final paragraph: "Among the many high-quality illustrations, the dark symmetry of the 'Inhabitant' amply depicts the dignity of Indian suffering, while a ceramic figurine, cupped reverentially in his hands, references the 'violent stifling' of Inca society and the resultant sense of loss that Laso believed to be imprinted in Indian memory. That is one message of this book. Its other considerable achievement is to have begun the restoration of the nineteenth century to its rightful place in the cultural history of both Peru and Latin America." Inventing Indigenism was also reviewed in the Canadian Journal of Latin American and Caribbean Studies. Victor R. Rivas Gingerich calls the book, "A groundbreaking study," going on, "The book, like a fine exhibition, is expertly curated to guide the reader through a fascinating exposition about the nineteenth-century origins of modern pictorial indigenism in Peru as featured in Laso's work." The review concludes, "This compelling and exquisite book is the product of a dedicated and masterful Art Historian. It is a book that should be required reading for every Latin American scholar conducting research on the complexities of colonial and republican legacies of Peruvian indigenism and identity politics. Natalia Majful's contextual analysis and insightful expertise has rendered a valuable and most welcome scholarly contribution to both academic and nonacademic enthusiasts of Latin American art."
Love in the Drug War was reviewed in Race & Class. Jessica Pandian writes, "Love in the Drug War is a wonderfully written and highly original ethnography that fluidly spans a wide range of conceptual fields (violence, migration, sex work, theology and queer studies, to name but a few) making it an attractive read for a large audience." Pandian concludes, "Love in the Drug War is a beautiful anthropological work, and it is Luna's attentiveness to the everyday details of life in la zona that immerses the reader. Upon turning the final page of the book, the reader is left with this: that from the cracks and crevices of an area defined by its negatives, love and intimacy, however complex, can grow and coexist with violence."
The Continuing Storm was reviewed at H-Environment. Ian Seavey writes, "The authors have provided a wonderfully succinct account of Hurricane Katrina that clearly emphasizes the importance of viewing this disaster as an ongoing phenomenon." Seavey goes on, "Erickson and Peek make important contributions to the field of critical disaster studies, the study of disaster time frames, and the study of trauma that individuals who endure disasters experience. The Continuing Storm is recommended for those who teach undergraduate courses on environmental history and sociology, history and sociology of disasters, and the sociology of trauma. This book would also serve as a terrific introduction to Katrina for both academic and non-academic audiences."
Grandmothers on Guard was reviewed in Perspectives on Politics. Doris Marie Provine writes, "[Johnson's] book is a model of how to study a marginalized population," going on "The book has two real and lasting strengths. One is its careful and caring description of how a political issue can offer aging women a way to express themselves and make themselves visible in a society prepared to ignore them. The other important contribution is to lay out, in richly developed terms, a view of citizenship, and particularly civic responsibility, that prioritizes protecting the homeland from social and demographic change. In these turbulent times, such concerns are salient for many Americans, but not particularly for the cosmopolitan elites whom intellectuals know best. This book is an opportunity to get better acquainted with a less welcoming point of view."
meXicana Fashions was reviewed in Spanish at Feministas Unidas. Bryn Mawr's Inés Corujo Martín posits that meXicana Fashions is an integral resource for promoting open dialogue about the role of dress as a means of personal and cultural expression:
"[C]ada ensayo transcribe con maestría una historia personal que, basada en un adorno o prenda, adquiere sentido dentro de la tradición compartida y heredada meXicana . . . Nos enfrentamos ante un volumen merecedor de profunda y seria atención académica que ofrece puntos novedosos dentro de los estudios meXicanos, chicanos, latinx y, por añadidura, dentro de los estudios culturales."

[Each essay masterfully transcribes a personal story that, based on an ornament or garment, acquires meaning within the shared and inherited meXicana tradition . . .We are faced with a volume deserving of deep and serious academic attention that offers novel points within meXican [studies], Chicano [studies], Latinx [studies] and, in addition, within cultural studies.]
Patricia Silver, author of Sunbelt Diaspora, was quoted, and her book mentioned, in a piece at Latino Rebels titled, "'Boricuas' in Florida at Epicenter of Housing Crisis."
Soldiers and Silver was reviewed at the Michigan War Studies Review. Sally Mubarak writes, "Soldiers and Silver is a compelling and insightful exploration of the 'grand game of Mediterranean geopolitics' (3) during a portion of the Roman Republican period (509–27 BCE)." Mubarak goes on to call the book "an invaluable overview of inter-Mediterranean conflicts and the military economy in this period," concluding, "Soldiers and Silver will no doubt become a standard 'go-to' text for military historians regarding economic aspects of the Roman conquests of the Republican era."
Sightlines published a review of the Blanton exhibition behind Painted Cloth, and included mention of the book in their review.
__________________
I sure enjoyed looking back at all of this lovely media attention and I hope you did too. Until next time, friends. Have a great one!