Every week, our wonderful publicity team tracks the cross-platform media coverage our authors and their books receive. We're proud to share our latest and greatest highlights below with links to where you can read more about these great titles!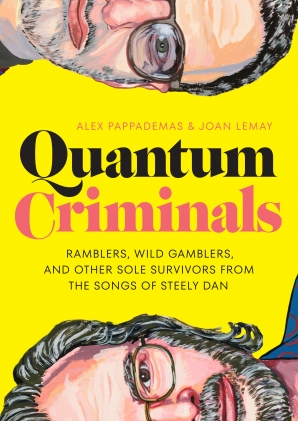 Allyson McCabe, author of Why Sinéad O'Connor Matters, was the guest for this week's episode of You're Wrong About, brought on to tell Sinéad's story to host Sarah Marshall.
Quantum Criminals received a first review from the Houston Press. Bob Ruggiero calls the book, "Wonderfully weird and insightful…the Steeliest of all the Steely Dan books out there. And it's wholly refreshing." Ruggiero concludes, "There have been a number of fine books on Steely Dan, but Quantum Criminals is the one whose spirit, vivacity, and off-kilterness matches its subjects and their body of work."
Armadillos to Ziziphus was reviewed in the San Antonio Report, a piece which also previewed Hillis's session at Saturday's San Antonio Book Festival (full details of the sessions for our three authors appearing at SABF available here). Monika Maeckle, who was in conversation with Hillis, writes, "Hillis brings encyclopedic scientific knowledge to the task of explaining the Hill Country's 'natural wealth.' He doesn't allow scientific jargon or Latin taxonomy to muddy his prose, however. Using plain, understandable language, he paints accessible portraits of the land he's spent a lifetime walking and exploring." Maeckle goes on, "He dissects the region with both practiced ease and great authority, tapping his wisdom as a scientist, as a scholar and as a lover of nature. Reading the book feels much like perusing a personal journal that captures a lifetime of experiences," and concludes, "Armadillos to Ziziphus is one of those books that can be read in one sitting or used as a go-to compendium, whereby the reader looks up something sparked by a curious moment."
Oscar Cásares' essay included in Pastures of the Empty Page was excerpted in the May issue of Texas Monthly, titled "Why 'Lonesome Dove' Gives Me the Creeps."
The Running Kind was mentioned and quoted in Lindsay Zoladz' "Amplifier" newsletter for the New York Times, calling Cantwell's book, "Excellent."
More City Than Water was mentioned in a New York Times review of Susan Crawford's Charleston, cited as an "also excellent" example of a book that shares Crawford's "sustained focus on one threatened city."
Pitching Democracy was featured at the University of New Haven's "Charger Blog," including an interview with Yoder and discussion of the book.
Friday Night Lives was mentioned and discussed in an interview with Buzz Bissinger on It's Not Only Football.
Sharpening the Legal Mind was included in the Legislative Reference Library of Texas's "New & Noteworthy Books and Reports: April 2023."
An upcoming virtual event for We Are All Armenian was previewed at The Armenian Weekly.
Building Antebellum New Orleans was reviewed in the Journal of American History. Jennifer Van Horn writes, "Dudley demonstrates the control gens de couleur libres (free people of color) exerted on the city's architecture and urban design, and she convincingly asserts the importance the built environment had for their families and community, thereby expanding our understanding of gens de couleur libres material strategies and New Orleans's built environment." Van Horn goes on, "Dudley recovers a sizeable group of builders obscured by scholars' focus on the city's European and Anglo-American professional architects, and she offers a nuanced analysis of her subjects' complex racial identities, acknowledging some family members' role as enslavers. Her study resonates with questions emerging across architectural history and material culture studies about the importance of enslaved and free Black craftspeople's expertise and labor in building trades across the South."
Reverberations of Racial Violence was also reviewed in the Journal of American History. John H. Flores writes, "This comprehensive collection of essays, carefully selected by Sonia Hernández and John Morán González, underscores a brutal history that remains largely unknown to the public. These essays should be read by those who want to better understand the history of modern America through the bloody experience of the Mexican people of Texas. As the various authors make clear, ethnic Mexicans know their history, it only remains hidden to those who do not want to face the American past."
The Myth of the Amateur was also reviewed in the Journal of American History. Gregory Kaliss writes, "This book is a skillful compendium of college athletics' hypocrisies and exploitative behaviors, particularly useful for sports historians and those interested in athlete rights," concluding, "Smith proves that amateurism never really existed—and that only by changing the term's definition could the NCAA cling to any vague ideal along those lines. In doing so, he provides a more realistic understanding of college sports' history that will enable a better engagement with the present and the future."
Futbolera was reviewed in the American Historical Review. Stephen D. Allen writes, "Futbolera fills a major gap in the historiography of Latin American sport by focusing on the trials and tribulations of women's soccer in Argentina, Brazil, Chile, Costa Rica, El Salvador, and Mexico from the late nineteenth century to the present day." Allen goes on, "With this volume, Elsey and Nadel have established a narrative for women's sports in Latin America and offered detailed analysis of the sparks of creativity and organization of futboleras as well as the concerns and biases of those who opposed them. Its rigorous research and historiographic contributions make it a must-read for historians of sport, of Latin American gender relations, and of Latin American popular culture. Its accessible writing style makes it ideal for undergraduate and graduate courses pertaining to these topics."
The Continuing Storm is reviewed in the upcoming June '23 issue of CHOICE, dubbed by R.P. Lorenzo to be, "Essential."
_____________________
That's all for this time, folks. See y'all real soon!