Use this discussion guide to host a Sinéad O'Connor book discussion!
Sinéad O'Connor's career—her music and her activism—gives fans, haters, music critics, journalists, and anyone with a surface-level knowledge of her impact on pop culture plenty to talk about. Controversy is inevitably part of the conversation not only because she ripped up a picture of the pope on live, primetime television but also because of how the media portrayed her. Author Allyson McCabe's book Why Sinéad O'Connor Matters argues that its subject has been repeatedly manipulated and misunderstood by a culture that is often hostile to women who speak their minds. A journalist herself, McCabe exposes how the media distorts how we see not only O'Connor but also ourselves, as she weighs the risks of telling a story that hits close to home.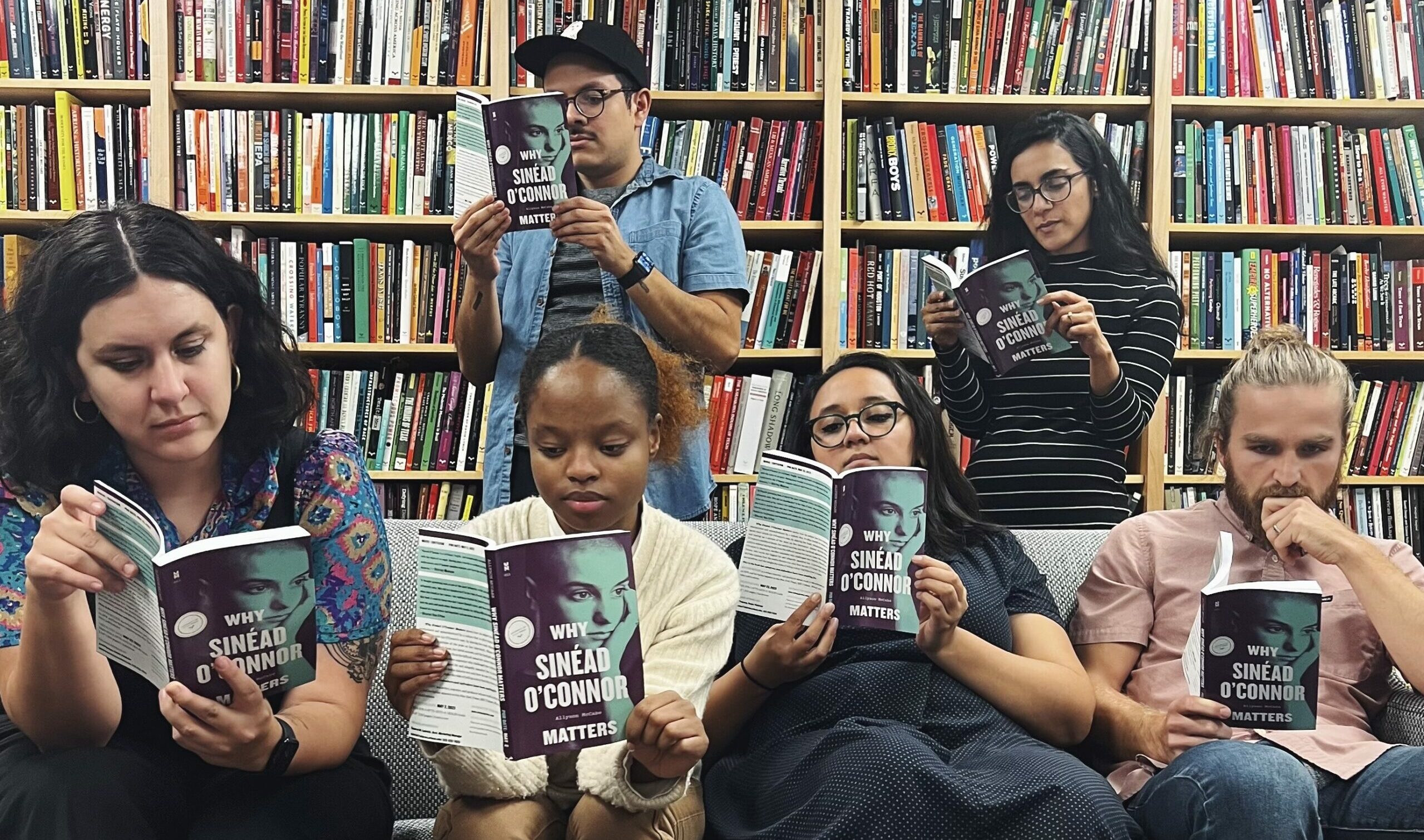 Covering topics like mental health, abuse, racism, misogyny, cancel culture, fearlessness, and more, Allyson McCabe's book is a terrific choice for your next book club, class discussion, or casual book chat! To encourage an enriching conversation, we are sharing some discussion questions below that are also available as a printable download here:
First, though, we are sharing a brief author Q&A with Allyson McCabe created to accompany the audiobook. Catch Allyson on book tour this summer, listen to her author-curated playlist, and hear her share what she hopes her readers will take away from the experience of reading her book, which hits shelves May 23!
Author Q&A
The prologue paints such an interesting picture of why you wrote this book. Can you summarize for readers what they will find there? Why do they want to pick up your book?
Her head was shaved. She had a megahit with "Nothing Compares 2 U." She tore up a photo of the pope on SNL. Like many people, what I knew about Sinéad O'Connor ended there. I had no idea that long after she made hit songs, she kept making great music. Or that she was right about so many things, including the Church's child abuse crisis, racism and sexism in the music industry, and the way that success is defined in purely commercial terms. But that's just the beginning. The more I learned about Sinéad, the more I learned about who we are, and who we could be if only we listened as much as we judged.
Well, let's answer the title question, Why Sinéad O'Connor?
Sinéad O'Connor held a mirror up to our society, revealing our double standards, hypocrisy, and gaslighting. If we love the tear she sheds in the music video for "Nothing Compares 2 U," we also have to be willing to acknowledge the pain that provoked it.
What is one thing you want people to take away from the book?
I want you to come away with a deeper understanding of both Sinéad and yourself. I want you to imagine a world where we have the right to be imperfect—as Sinéad says, to be mad even—and to use our own voices to speak out against injustice. Imagine if instead of being silenced, we could hear each other.
How does it feel to read this story out loud to your audience versus writing it?
I exposed a lot of my own story and emotions in this book. Reading it feels even more intimate than writing it. You're right there along with me, we're taking the journey together. Like listening to a song that puts you in touch with your own deepest experiences and memories, I hope you'll come away feeling that sense of connection.
Is there a chapter that stood out during the recording process?
"Hurt People Hurt" is the riskiest chapter for me because it's the one where my story and Sinéad's converge. This is the stuff I'm never supposed to tell you as a journalist, because I worry readers will think that I'm too close, too invested, maybe even "projecting" my own story onto hers. But maybe the opposite is true—that others haven't let themselves get close enough, they aren't invested enough, and their empathy has been snuffed out by false neutrality.
How did you know when this book was done?
I don't want to give away the ending to the book because that would shortchange the path that brings you there. But I will say that when I struck the final period and sent the manuscript off to my editor, I knew that the story was far from over. Where we go from here is up to us.
Book Discussion Questions
Allyson McCabe tells us that her former perceptions of Sinéad O'Connor were filtered through the media as well as through her own experiences. Have you ever experienced a similar realization about how you saw a public figure?
McCabe expresses doubt about the possibility of any journalist maintaining pure neutrality and shows how that played out in her first attempt to tell O'Connor's story. What are some of the potential risks and rewards of taking a different approach—one that openly acknowledges how a reporter relates to a story?
As McCabe recounts the difficult circumstances of O'Connor's early life, she also revisits parts of her own childhood and adolescence. Identify instances where shame emerges in this book, and how it influences our perceptions. Are there parts of your own story that are difficult to share with others? Why?
McCabe describes some of the qualities that helped to propel O'Connor onto the world's stage and foreshadow the backlash that would follow. What are some of the key differences between O'Connor and contemporaneous artists such as Madonna that explain how they were seen and treated differently by the press and the public?
O'Connor was widely condemned for expressing her preference that the national anthem not be played before her show and for pulling out of a 1990 appearance on SNL. In both cases, her detractors accused her of "censorship." In what ways does McCabe suggest that O'Connor, in fact, was being censored?
McCabe contextualizes O'Connor's solidarity with Black artists by discussing the racial segregation of the radio dial and MTV's early refusal to play videos by Black artists. What role does she believe racism played in O'Connor's cancellation?
In what ways does McCabe consider the runaway success of "Nothing Compares 2 U" both a blessing and a curse for O'Connor?
How did McCabe's discussion of Connor's 1992 SNL performance differ from other accounts you may have seen or read, and how did it affect the way you interpreted it?
McCabe charts how O'Connor's commitment to making music was overshadowed by the relentless focus on her controversies, including some of her own making. How does McCabe connect some of O'Connor's actions and statements to her experiences as a survivor of childhood trauma? What role does she suggest the media and the public played in perpetuating that trauma?
McCabe points out that women are held to a different standard than men, but also shows how women were complicit in bringing O'Connor down. What jumps out at you in terms of possible explanations for why that happened?
McCabe suggests that O'Connor's mental illness has often been used to invalidate her, including the widely held view that her claim of having been assaulted by Prince is categorically false. What are your thoughts on how this has affected her credibility?
McCabe says "if we love the tear O'Connor sheds in the video for 'Nothing Compares 2 U,' we also have to be willing to acknowledge the pain that provoked it." What does she mean? What impact might that approach have on society, particularly with respect to how we deal with generational trauma?
McCabe says her goal is not to justify or excuse everything O'Connor has ever said or done, but to defend her right to be imperfect. What are your thoughts about cancel culture? Can you identify instances in which cancellation is justified and others in which you feel it's unwarranted?
As she begins to close the book, McCabe tells us how she came to realize that being a truth-teller as a journalist required her to reveal parts of her own story, too. Did doing so alter the way you saw her as a narrator, and if so, how?
At the end of the book, McCabe asks what it would be like if a choir of millions of Sinéads burst out from all the rooms where they've been locked away and silenced, finally hearing and supporting each other. Are there times in your own life when you've felt silenced or unheard? What have you been holding in that you wish you could release?