Olympic gold medalist. Two-time world heavyweight champion. Hall of Famer. Infomercial and reality TV star. George Foreman's fighting ability is matched only by his acumen for selling. Yet the complete story of Foreman's rise from urban poverty to global celebrity has never been told until now.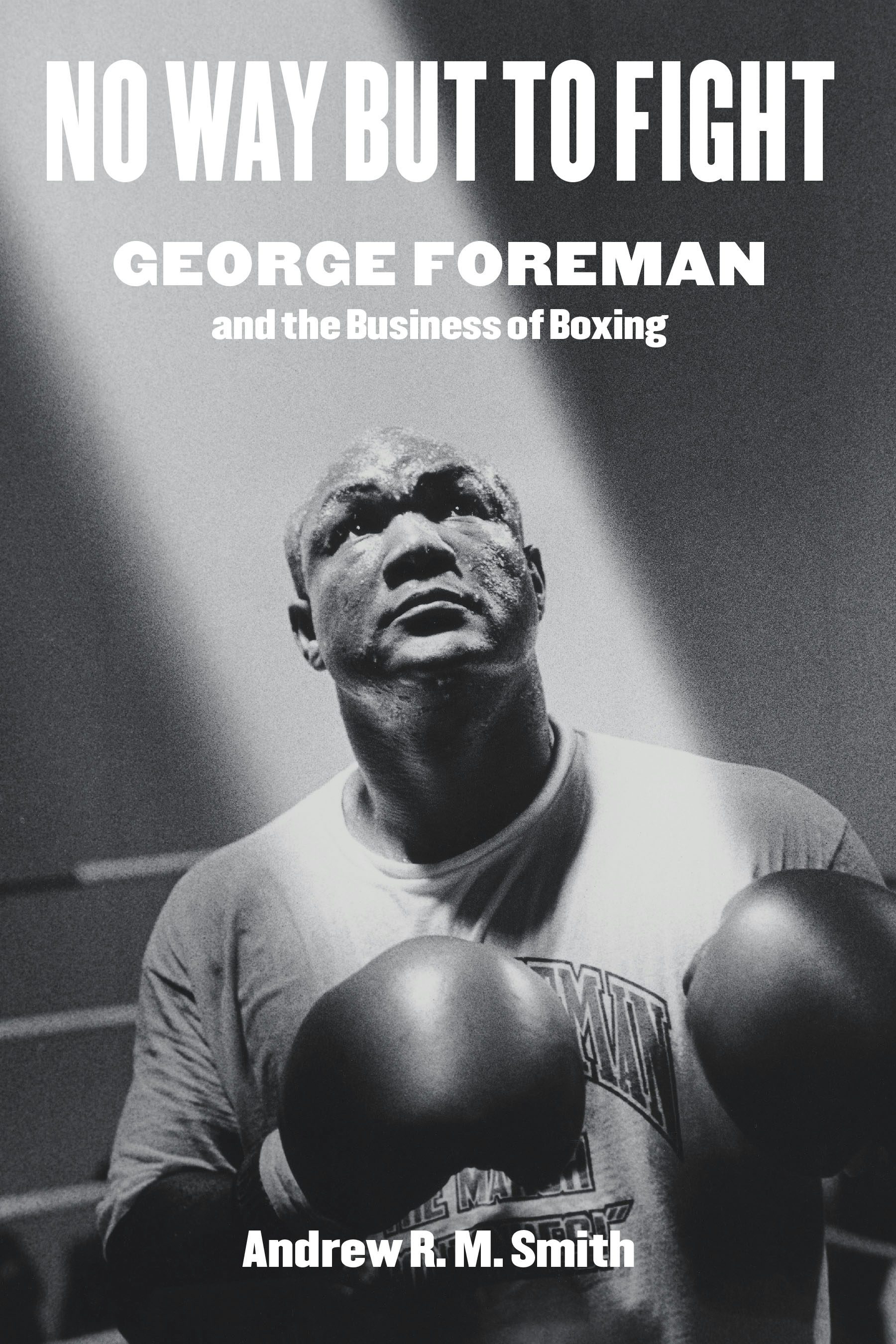 Raised in Houston's "Bloody Fifth" Ward, battling against scarcity in housing and food, young Foreman fought sometimes for survival and other times just for fun. But when a government program rescued him from poverty and introduced him to the sport of boxing, his life changed forever.
In No Way but to Fight: George Foreman and the Business of Boxing, Andrew R. M. Smith traces Foreman's life and career from the Great Migration to the Great Society, through the Cold War and Culture Wars, out of urban Houston and onto the world stage where he discovered that fame brought new challenges. Drawing on new interviews with George Foreman and declassified government documents, as well as more than fifty domestic and international newspapers and magazines, Smith brings to life the exhilarating story of a true American icon. No Way but to Fight is an epic worthy of a champion.
To commemorate the 25th anniversary of George Foreman becoming the oldest heavyweight champion, we asked Andrew Smith to recount Foreman's path to this historic distinction. No Way but to Fight publishes January 10, 2020.
George Foreman's 1994 Heavyweight Title
By Andrew Smith
In 1987, almost ten years and at least 50 pounds away from his last prize fight, George Foreman had a dream. "I'm not trying to rain on [Mike] Tyson's parade," he told the New York Times' Dave Anderson. "He's the youngest champion, I just want to be the oldest."
The 38-year-old Foreman wouldn't have to wait very long to meet the age requirement. He was chasing the record that "Jersey" Joe Walcott set in 1953. At 37, Walcott beat Ezzard Charles to win the heavyweight title. Two years later he relinquished his title to Rocky Marciano and promptly retired from boxing.
Foreman said he intended to win the heavyweight title at 40. It didn't quite work out as planned. His 40th birthday came and went, and although he kept fighting—nearly 20 times in two years—he struggled just to get his bouts with lackluster opponents televised, let alone secure a title shot.
Maybe it was an impossible dream. No one over 40 had ever worn the heavyweight crown. A quarter-century after Walcott's last fight, the 36-year-old Muhammad Ali became champion for the third time, but abdicated his title the next year. Ali had one more shot at the title when he was 38, but he was badly outmatched by Larry Holmes. He retired for good the next year, like Walcott, before he turned 40.
Foreman kept his eye on the heavyweight prize as he eased into his comeback, while Holmes—just ten months younger than Foreman—had never really left. Although Holmes lost his championship at 36, he threatened Walcott's record by challenging Tyson two years later. "Kid Dynamite" was 17 years younger and only needed 12 minutes to rebuff Holmes's shot at history. Rumors swirled that Tyson would also give Foreman a chance at the championship belt—and the record that he coveted. Though Foreman's chances of beating Tyson were not much better than Holmes's had been, he would never have the opportunity to test them. Tyson lost to James "Buster" Douglas, who promptly gave it up to Evander Holyfield while Tyson was convicted of rape, and sent to prison.
Holyfield gave Foreman his shot, making his first title defense against the now 42-year-old in 1991. Their "Battle of the Ages" was much more competitive than expected, with the sport's elder statesman taking Holyfield the full twelve rounds, even winning one or two, depending on who was counting. Foreman was still standing at the end of the fight, but so too was Walcott's record. "I played too much jazz," Foreman said of his conservative approach to Holyfield, and many wondered if that was in fact his swan song.
Two years later, however, the World Boxing Organization pitted him against Tommy "The Duke" Morrison for its vacant championship. Foreman was the betting favorite, but Morrison, who claimed to be a nephew of John Wayne, channeled his inner sheriff and marshalled Foreman around the ring. Now 44, Foreman could be seen more often on television commercials than in a prize ring. Like other aging yet popular athletes, it seemed that "Big George" would be relegated to the broadcaster's booth, calling the fights for a new generation of champions, including Holyfield's next defense against Michael Moorer.
More than four decades after Walcott's last stand in 1953, it seemed the age gap in heavyweight boxing had only widened as Holyfield and Moorer—both a chiseled 214 pounds—faced off. Although he was outside the ring, Foreman didn't pull any punches in his commentary. He questioned the action, the scoring that gave Moorer a contested decision, and how much influence Moorer's management had over the outcome.
In retaliation, Moorer's people insisted that he would not fight on an HBO broadcast again if Foreman was in the booth. They got their wish, in a way: Moorer's first title defense was on HBO, but Foreman wasn't calling it from the table, because he was in the other corner. The nature of the sport, especially after Tyson's redemption story lost all redeeming qualities, meant that Moorer could earn the highest purse not by fighting the best contender, but the most popular one. The bald, round Everyman of the prize ring, George Foreman, fit the bill.
On November 5, 1994, George Foreman—now 45-years-old—got one more chance. Nine rounds of boxing only seemed to prop up Walcott's record. Moorer circled Foreman throughout the fight, landing punches seemingly at will. But boxing is one sport where 27 minutes of dominance can be undone in the blink of an eye; 90 points can be obliterated in just one shot. During the tenth round, Foreman caught Moorer with a left jab, and followed it up with a straight right hand that went through Moorer's gloves and hit the point of his chin. Moorer collapsed to the mat. When he regained his senses, he was staring up at the oldest heavyweight champion in modern boxing history.
Andrew R. M. Smith is an assistant professor of sport management and history at Nichols College. Originally from Guelph, Ontario, he lives with his wife and daughters in Woodstock, Connecticut. Visit his website at: https://andrewrmsmith.com.