Larry McMurtry wrote dozens of novels (Lonesome Dove, The Last Picture Show), screenplays (Brokeback Mountain, Terms of Endearment), and essays ("Walter Benjamin at the Dairy Queen"), among other works. He won Oscars, Emmys, and the Pulitzer Prize, among other honors. When he died in March 2021, he was possibly Texas's best-known and best-loved writer, an honor he famously dismissed by wearing a T-shirt that read "minor regional novelist."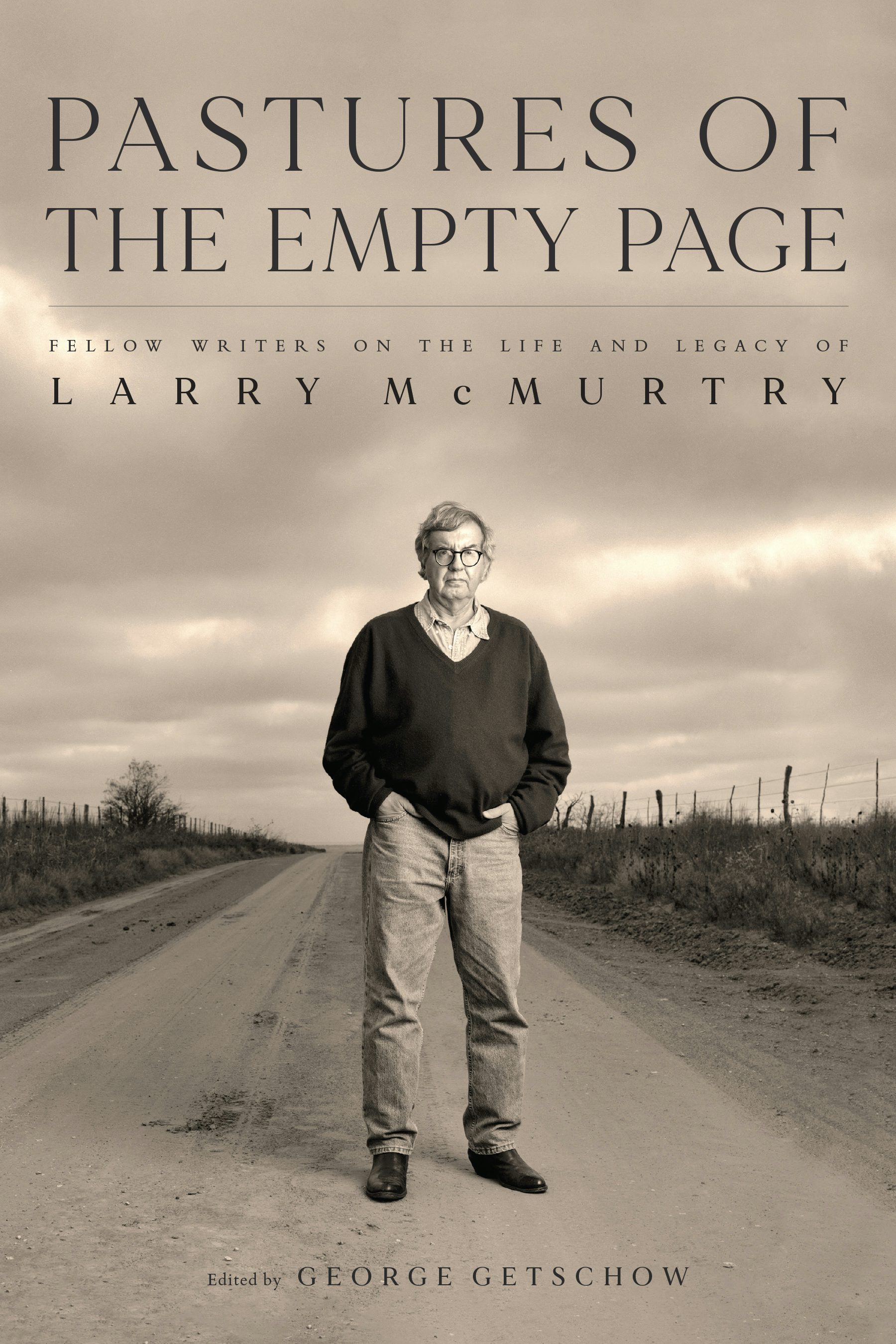 George Getschow worked with McMurtry through the Archer City Writer's Workshop, an annual three-day event in McMurtry's hometown that pairs emerging and established writers. Getschow leveraged that network to craft Pastures of the Empty Page, a collection of essays paying homage to McMurtry, featuring some of his closest friends and collaborators, many of whom are also formidable presences in literature and film—Diana Ossana, Michael Korda, Stephen Harrigan, Beverly Lowry, Doug J. Swanson, Elizabeth Crook, and Lawrence Wright, to name just a few.
Pastures of the Empty Page offers an intimate view of Larry McMurtry from the people who knew him and his work best. Below, we are pleased to share audio excerpts from five of the incredible contributors in the collection.
Order your copy of George Getschow's Pastures of the Empty Page today; the book hits shelves September 5! Come out for book tour events in Dallas, Austin, Archer City, and Abilene with appearances from editor George Getschow at the Boerne Books & Arts Festival and Texas Book Fest!
Oscar winner Diana Ossana reads from "Stirring the Memories"
In her essay "Stirring the Memories," McMurtry's longtime screenwriting partner and one of his dearest friends, Diana Ossana, writes movingly about their close friendship and many collaborations. Ossana, born in St. Louis, Missouri, left a twenty-year career in law at Larry McMurtry's request to begin their thirty-year collaboration, which included two novels, numerous essays, and more than forty screenplays. They were writers/executive producers on four award-winning miniseries. Ossana read the Annie Proulx story "Brokeback Mountain" in 1997 and convinced Larry to cowrite the screenplay and Ang Lee to direct. They received a Best Adapted Screenplay Oscar, and in her producer role Ossana was nominated for the Best Picture Academy Award. She also received numerous other honors for Brokeback Mountain, including two Golden Globes and two BAFTA Awards.
Editor in chief emeritus of Simon & Schuster Michael Korda reads from "The Moby-Dick of the Plains"
As the editor who shepherded Larry McMurtry's best-known work, Lonesome Dove, Michael Korda joined Simon & Schuster as an assistant editor in 1958 and subsequently became managing editor, executive editor, and editor in chief. In his essay "The Moby-Dick of the Plains," Korda writes about his professional relationship with Larry—how he became aware of his work, tussles over the book jacket for Lonesome Dove, and more—as well as their lifelong friendship. Korda writes, "Whenever anything important happened in my life, good or bad, Larry was always the first person on my list to call." Over nearly five decades, his authors have included Presidents Carter, Reagan, and Nixon; such stars as Cher and Kirk Douglas; the historian David McCullough; the novelists Larry McMurtry, Jacqueline Susann, and Mary Higgins Clark; and theater figures such as Tennessee Williams, John Gielgud, and Laurence Olivier. Korda is now editor in chief emeritus of Simon & Schuster and is working on a book titled Muse of Fire.
Award-winning novelist Stephen Harrigan reads from "Writing Plainly and Unforgettably"
Stephen Harrigan writes in his essay, "I wonder if I would even be a writer at all without Larry Mc-
Murtry." As a young writer, Harrigan not only saw in McMurty's writing an incredible work ethic and natural ability for plain and simple storytelling, he also saw an established writer take Texas seriously as a legitimate literary place. From that spark of inspiration, Harrigan became writer at large for Texas Monthly and the author of thirteen books of fiction and nonfiction, including the best-selling novel The Gates of the Alamo and Remember Ben Clayton, which among other awards won the James Fenimore Cooper Prize for Best Historical Fiction from the Society of American Historians. Big Wonderful Thing, his sweeping narrative history of Texas, was named best nonfiction book of the year by the Philosophical Society of Texas. Harrigan has received lifetime achievement awards from the Texas Institute of Letters and the Texas Book Festival and was presented in 2019 with the Texas Medal of Arts.
Novelist Beverly Lowry reads from "Scenes from a Friendship"
Beverly Lowry met Larry McMurtry in 1978 as a fellow author at a conference in Houston. In her essay "Scenes from a Friendship," Beverly describes his gift for curating books, his innate ability to make the women in his life feel heard, and how enriching a good conversation with Larry could be. Lowry was born in Memphis and grew up in Greenville, Mississippi. She is the author of six novels and five works of nonfiction, including her latest book, Deer Creek Drive: A Reckoning of Memory and Murder in the Mississippi Delta. Her writing has appeared in the New Yorker, the New York Times, the Boston Globe, Vanity Fair, Rolling Stone, the Mississippi Review, Granta, and many other publications. She has received awards from the National Endowment for the Arts, the Guggenheim Foundation, the Texas Institute of Letters, and the Mississippi Institute of Arts and Letters. Lowry lives in Austin, Texas.
Author Doug J. Swanson reads from "Gus, Call, Danny, and the Rangers"
Doug J. Swanson became interested in how Larry McMurtry portrayed the legacy of the Texas Rangers in his most famous work, Lonesome Dove. In his essay "Gus, Call, Danny, and the Rangers," Swanson digs into the whitewashing of the brutality and state-sanctioned racial violence committed by the Texas Rangers, Larry's takedown of Walter Prescott Webb's account from 1965, and how characters in a work of fiction can engage an ugly chapter in our state's history. Swanson is the author of five novels and two nonfiction books. His most recent book is Cult of Glory: The Bold and Brutal History of the Texas Rangers. A member of the Texas Institute of Letters, he was for thirty-three years a reporter and editor at the Dallas Morning News. He has been a finalist for the Pulitzer Prize for Feature Writing and was a Knight Fellow in Journalism at Stanford University. Swanson teaches fiction and nonfiction writing at the University of Pittsburgh and is working on a biography of the Gilded Age industrialist Henry Clay Frick, to be published by W. W. Norton.
George Getschow is a Pulitzer Prize finalist for National Reporting and winner of the Robert F. Kennedy Award for distinguished writing about the underprivileged. He has earned numerous other awards for his writing and was inducted into the Texas Institute of Letters in 2012 for "distinctive literary achievement." Today, as director of the Archer City Writers Workshop, he helps organize and conduct annual writing workshops in Archer City for professional writers and college and high school students from across the country.