Every week, our wonderful publicity team tracks the cross-platform media coverage our authors and their books receive. We're proud to share our latest and greatest highlights below with links to where you can read more about these great titles!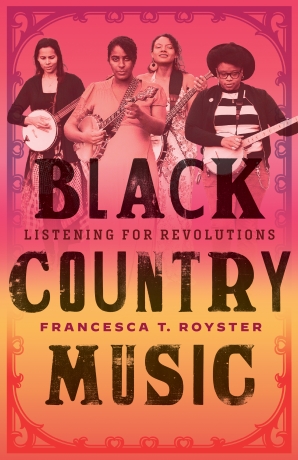 SXSW is in town and we are so excited about the author panels yet to come and still reeling from the panel from Francesca Royster in conversation with Taylor Crumpton on Blackness, country-ness and the intersections of both with queerness, community, and spaciality. You can catch the full recording on our Instagram page (@utexaspress).
Francesca Royster's reading and conversation at SXSW for Black Country Music  was included in "A Black Woman's Guide to SXSW 2023: Events For & By Black Women," compiled by A Black Woman's Website. Royster's event this past week with the Stax Museum in Memphis also received notice beforehand in Memphis Magazine's "Your Weekly Guide to the Arts."
We Are All Armenian was included in the New York Times "Newly Published" column. They write of the book, "The 18 essays in this collection delve into questions of Armenian identity, belonging and displacement from the perspective of a community whose past often goes unacknowledged." We Are All Armenian was also excerpted this week at Literary Hub, a piece titled, "Countries Real and Imagined: Chris McCormick on Creating His Own Argentina." The Armenian Weekly also included a piece on an upcoming event in New York featuring Mrjoian and several of the collection's contributors.
Lynn Melnick, author of I've Had to Think Up a Way to Survive, was interviewed on Montana Public Radio's "The Write Time." In the show notes, host Lauren Korn also recommends two other books of ours: Night Moves and Go Ahead in the Rain.
Maybe We'll Make It  was mentioned in a piece on Price at The Line of Best Fit, described as "[A] wildly honest memoir." Price's book and her upcoming SXSW keynote were also mentioned in an Austin American-Statesman roundup of SXSW titled, "Where to find Lil Yachty, New Order, Margo Price, more big artists at SXSW."
Why Sinéad O'Connor Matters  received a first review, included among a few other titles in the most recent iteration of Aquarium Drunkard's Book Club. James Toth writes, "Why Sinéad O'Connor Matters reassesses the oft-misunderstood songwriter and activist through a lens that is both historical and personal," calls the book "clear and provocative," and goes on, "McCabe's impassioned defense of O'Connor in the wake of her many controversies is both heartfelt and persuasive." Toth concludes, "Our protagonist emerges from Why Sinéad O'Connor Matters as a conquering hero; having weathered abuse, cruelty, and prejudice, not to mention the usual unreasonable expectations too often placed on female artists, the courageous nonconformist emerges wounded but wiser. Ultimately—and most importantly—she is redeemed."
You're with Stupid was excerpted this week at Belt Magazine, a passage titled, "That That Is … (Not): 1991-92." Adams was also interviewed on the delightfully-titled podcast No Wristbands! We Drink For Free.
William Hogeland, author of Founding Finance, was interviewed about his book on The Dig.
A 2020 review of Big Wonderful Thing, originally published in The American Conservative, was republished this week at The Imaginative Conservative.
Making The Best Years of Our Lives was reviewed at Laura's Miscellaneous Musings. Laura (presumably) writes, "To say I found Macor's book interesting is putting it mildly; it was such a page-turner that I read it over the course of a single weekend afternoon!," going on, "Macor utilizes a variety of resources, including archival papers, previous interviews, and books, to skillfully weave her story."
Love in the Drug War  was reviewed in Current Anthropology. Alize Arican writes, "Love in the Drug War is an exciting piece of work that pushes us to think about borderlands, queer intimacies, value, morality, love, and obligation together." Arican goes on, "Love in the Drug War is a unique book that reaches across disciplines. It helps the reader think synthetically across multiple theoretical perspectives, lived experiences, geographies, and methodological orientations."
_____________
Excited for the next one! See y'all soon with more news and highlights. Until then, hope y'all have a great week.