On January 19, 1946, the universe gifted us the irreplaceable Dolly Parton. To celebrate her birthday, we're sharing the wonderful Lynn Melnick's annotated Dolly Parton playlist! Listen along and read Lynn's excellent commentary on these Dolly songs!
Dolly Playlist: "Dolly Addendum"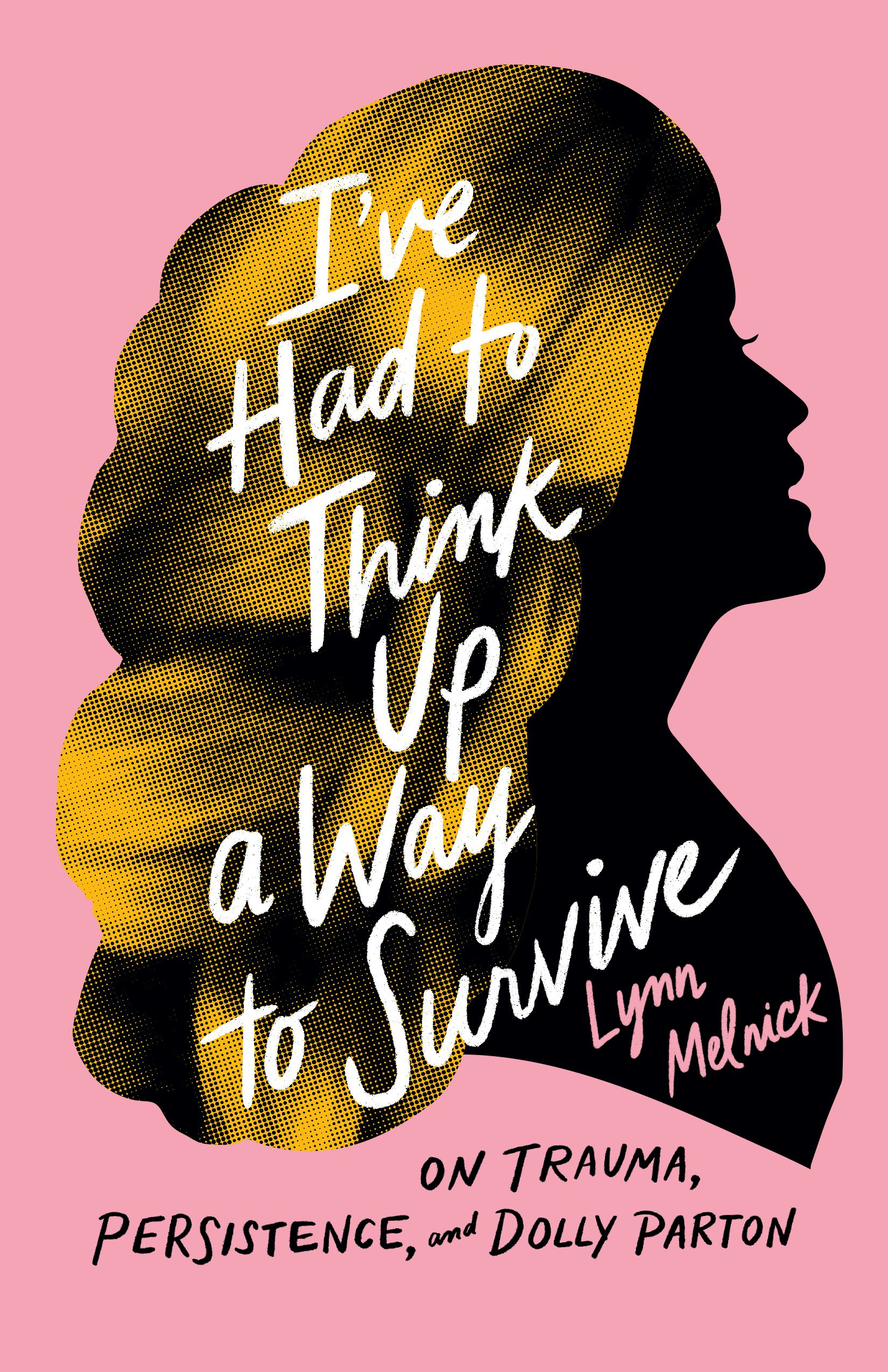 By Lynn Melnick
My memoir, I've Had to Think Up a Way to Survive: On Trauma, Persistence, and Dolly Parton, sprung from a playlist of Dolly songs I created in 2012 and have listened to obsessively ever since. Each chapter dives into a song on the playlist and how it connects to Dolly's life, my life, and the larger world. But something unexpected happened as I wrote the book over the past few years: I fell in love with so many more Dolly songs that I had to create a second list, which I call "Dolly Addendum," to hold these new obsessions. The songs—hits and deep cuts both—on this list could easily have inspired another whole book!
"What a Heartache" from Halos & Horns, 2002
In 2020, a year in which I listened to over 6,000 hours of Dolly songs, I listened to this song the most of any. Dolly has often put songs she loves on more than one album, and this one appeared for the third time on her final bluegrass/mountain trilogy album. It is my favorite version. I'm astonished this was never a hit (and so was she!)—it so perfectly encapsulates the shock of a sudden ending. In the early months of a pandemic, this song reminded me that such beauty could come from such heartache.
"I Hope You're Never Happy" from Real Love, 1985
Ok, so this song just warms my grudge-holding Scorpio heart. I mean, Dolly's like good luck and have fun but I wish nothing but sadness on you if we break up! And in true Dolly form, she joyously sings the title words atop a bouncy early-80s production. Also, in true Dolly form, she turns suddenly serious thinking about all she's given to the love of her life, and this turn dims the next chorus's bounce a bit. Dolly's elasticity is enviable.
"Light of the Clear Blue Morning" from New Harvest…First Gathering, 1977
Dolly wrote this song as she drove home after finally freeing herself from a musical and TV partnership with Porter Wagoner. This song is beacon personified, and pops into my head every time I've just stepped out of something horrible. It always brings tears to my eyes. Like Dolly, I'm an optimist, maybe improbably, and this song captures the spirit of hope like no other. The chorus in the background, as the music picks up speed, is completely transcendent, and something of a spiritual experience.
"Eagle When She Flies" from Eagle When She Flies, 1991
Originally written for the movie Steel Magnolias but, for some unfathomable reason, not included on the soundtrack, this song reflects the kind of resilient strength and heart of the various characters in the film, and women in general. Using the bird imagery that she favors in so many songs, Dolly's clear, fierce voice serves to deliver the message that, while women are holding it all together for everyone, we're also really freaking tired. And then we keep flying anyway.
"Dagger Through the Heart" from Halos & Horns, 2002
This song sounds so much like it should have been a murder ballad from Old England, like Dolly's "Silver Dagger," but it's a new tune, written by Dolly, and it's a real bluegrass masterpiece, with fiddle and mandolin and banjo, and very intricate harmonies. It's also a sad-ass sad-banger, giving us such joyful music with the most pitiful words. Dolly is the queen of this move, which I think is her way of reminding us—as ever—that even in sorrow, beauty exists.
"Better Get to Livin'" from Backwoods Barbie, 2008
I have a pretty conflicted relationship to this song, because, on one hand, I know that its message of "stop whining, buck up, and get going on your dreams" is dangerously close to toxic positivity, but, on the other hand, like Dolly, I've gotten through a lot of trauma and realized many dreams by the kind of relentless go-go-go touted in the song. I dunno. Dolly's stern yet jolly delivery tips the balance into the "I love this song" every time I listen.
"Dumb Blonde" from Hello, I'm Dolly, 1966
"I'm not offended by all of the dumb blonde jokes because I know I'm not dumb, and I also know that I'm not blonde." This is understandably one of Dolly's most famous Dollyisms, and so it makes sense that people think Dolly wrote "Dumb Blonde," but it was written by prolific country songwriter Curly Putman. An early Dolly hit, it is sung in a more stylized country way than her later hits, but it is still so fierce, and it fits into her lifelong ability to create great art while laughing off the haters.
"Living on Memories of You" from Jolene, 1974
This song features Dolly's voice at its purest, backed by an insistent guitar and mournful harmonica. Written by Dolly and appearing on an album with several Dolly classics, "Living on Memories of You" stands out for the purity of Dolly's voice as she sings regret and heartbreak. This song hits right at the intersection of country and blues, and oh it is pitiful! And really so enjoyable.
"If I Had Wings" from Blue Smoke, 2014
The melody of "If I Had Wings" is very similar to that of Dolly's "Little Sparrow" from 2001, and they are both sprung from an old Appalachian folk ballad. In this version, the bird imagery remains (birds are a constant motif in the Dolly oeuvre!) but the lyrics are much more promiseful than those in the sweetly bleak "Little Sparrow"—they're still sorrowful, but they leave room for hope. I love how songs can evolve over decades and even centuries; it's a testament to what a simple yet perfect arrangement of notes can do.
"You're the Only One" from Great Balls of Fire, 1979
Written by Carole Bayer Sager and Bruce Roberts—who have also written songs sung by Whitney Houston, Bette Midler, Dionne Warwick, and Barbra Streisand, among many others—this song oozes 1970s lite FM deliciousness. It's slow and sexy and includes a gooey spoken-word interlude in the middle. This song is a vibe, and Dolly imbues the easy listening of it all with an earnest and deep delivery.
"Backwoods Barbie" from Backwoods Barbie, 2008
In many ways, this is an anthem for Dolly's lifelong push-and-pull between an outsize image and an outsize talent. Written for the character Doralee (originally played by Dolly in the movie version) in the theater adaptation of 9to5, the album version of "Backwoods Barbie" showcases Dolly's ability to sing genuine feeling into every word.
"Shattered Image" from Haloes & Horns, 2002
Originally recorded in 1976 for her All I Can Do album, this song is as much of a pointed response to the tabloid media as Dolly would ever give. The original is a straight-ahead country song, but the updated version is basically a "let he who is without sin…" warning in a raucous, bluegrass package. This is enormously pleasurable, with its harmonies and complex instrument arrangements. And its relentless peppiness is quite the "fuck you" to those in the media who would try to take Dolly down.
"Hard Candy Christmas" (single), 1982
Appearing in Dolly's second movie, The Best Little Whorehouse in Texas, this song is sung by a group of sex workers in a brothel that has been shut down by the wrongheaded and judgmental citizens of their small Texas town. In her single version of "Hard Candy Christmas," Dolly retains the resilience amid worry that was conveyed in the group version, and, with her voice strong and determined, turns this song into a contemporary Christmas classic for those of us whose holidays aren't exactly Hallmark.
"Just Because I'm a Woman" from Just Because I'm a Woman, 1968
Although Dolly has often been cagey about outright declaring herself a feminist, this song is an absolute feminist classic, written to decry the double standard for women regarding sexual experience. At the Newport Folk Festival in 2019, on stage with the feminist country supergroup, The Highwomen, Dolly gave the background story to "Just Because I'm a Woman." Recounting what she replied when her husband asked her why she was finally telling him she'd had prior sexual partners, she says: "Because you asked me, dumbass!"
"Help!" from Great Balls of Fire, 1979
Here's the up-tempo bluegrass-tinged version of the 1965 Beatles classic you didn't know you needed. Making it very much her own, the banjo in Dolly's version does important work, serving as a kicky through-line under and around Dolly's insistent voice. Dolly's version of one of Lennon & McCartney's earlier hits is at once celebratory and urgent, and she transforms the classic song into something fresh.
"After the Gold Rush" from Trio II, 1999
One of the singles from Dolly's second collaboration with Emmylou Harris and Linda Ronstadt, this cover of the 1970 Neil Young song might be an unexpected choice for Dolly (hearing her sing, "I was lying in a burned out basement…" is never not jarring) but she has a long history of covering rock artists, from Jerry Lee Lewis to Led Zeppelin to Bon Jovi. "After the Gold Rush" shows off Dolly's ability to sing anything, while wrapping her fists completely around our hearts.
"Both Sides Now" from Those Were the Days, 2005
In "Both Sides Now," Dolly takes Joni Mitchell's classic of regret and nostalgia, adds a ton of speedy banjo and some excellent backing vocals from Rhonda Vincent and Judy Collins (who covered this song herself in 1968), and reminds us of the wonder that can be found in looking back, even on the bad stuff. Of course, Dolly's trademark sad-banging is at a peak, so this version may be ebullient, but it's heartbreaking, nonetheless.
"Wildflowers" from Trio, 1987
A breakout hit from Dolly's first album collaboration with Emmylou Harris and Linda Ronstadt, "Wildflowers" is a touchstone for so many members of Dolly's audience. It's a song for the misfits who feel stifled in their environments of origin—as Dolly did before she caught a bus from Sevierville to Nashville the morning after high school graduation—and set out to live their lives on their own terms. The exquisite harmonies and thrilling internal rhymes on "Wildflowers" elevate the song to repeat status; it's impossible not to hit "play again." And again.
"Raven Dove" from Halos & Horns, 2002
I will admit: I can't get through a listen of this song without crying, and I often must play it half a dozen times in a sitting to get it out of my system. It's explicitly and unabashedly religious, and, well, I am not, but the absolute rapture of this song—and its deep belief in a better day—knock me over every time. Dolly doesn't belong to any church, but she is deeply Christian, and this song has taught me (an agnostic Jew) over and over that spirituality can be kept personal and can feature joy and release. What Dolly has taught and teaches me is as limitless as the heavens.
Lynn Melnick is the author of three books of poetry and a contributor to Not That Bad: Dispatches from Rape Culture. Her poems have appeared in the New Republic, the New Yorker, and the Paris Review; her essays have appeared in Jewish Currents, LA Review of Books, and Poetry Daily.