Every week, our wonderful publicity team tracks the cross-platform media coverage our authors and their books receive. We're proud to share our latest and greatest highlights below with links to where you can read more about these great titles!
First, a huge congratulations to Martha Gonzalez, author of Chican@ Artivistas, who was revealed as one of this year's recipients of the MacArthur Foundation's "Genius Grant". Forbes, Artnet News, and Shelf Awareness all mentioned Gonzalez and Chican@ Artivistas in their pieces on recipients of this year's grant.
It's been a great couple of weeks in the media for our titles in Latin American Studies, so we are kicking off this roundup with some of those highlights. Next, we're tuning into our Music titles to see what's been up on the melodic front. Enjoy!
Selling Black Brazil was included in a list at Library Journal of "Geography | Academic Best Sellers," coming in at the #4 spot.
Lori Boornazian Diel and The Codex Mexicanus were mentioned in a piece in the Women In Academia Report highlighting "A Trio of Women Scholars Who Were Appointed to Endowed Professorships at Universities."
Love in the Drug War was reviewed in the Journal of Anthropological Research. Karma R. Chávez calls the book, "An ambitious, dangerous, and powerful study of transnational economies, neocolonialism, intimacy, labor, and Christianity," going on, "Luna's work stands among the best in recent ethnographic explorations of sexual economies throughout the Global South, but given her site's geographic proximity to the Global North, her work offers unique insights into the porousness of even the most militarized national borders thanks to power, privilege, and individual ingenuity." Chávez concludes, "Luna's work represents ethnography at its finest, showing how the experiences of a small and unseen group of people agentically forge lives that are simultaneously emblematic of forces well beyond their control."
Love in the Drug War also received a review in the Journal of Borderlands Studies. Miriam Romero writes, "[Love in the Drug War] accurately compiles and intertwines the stories of women who live and work in 'the zone' with the violence in the border city of Reynosa, Mexico. . . . Luna accurately conveys the message of her research in Love in the Drug War."
Rethinking the Inka was reviewed at Antiquity. Kevin Lane writes, "Rethinking the Inka is a fabulous book. Wide-ranging but well focussed, this volume presents 11 chapters, front-ended by a scene- setting introduction written by the editors and completed by a final chapter written by Ian Farrington, which contextualises the articles and themes elucidated by the book, among a wider appreciation of the Inka Empire. The other 11 chapters read like a roll call of the best, established, present-day researchers working on Qullasuyu archaeology; crucially, aside from Frances Hayashida, all the contributors are South American, lending that all-important regional perspective to the articles. Indeed, the editors should be commended on such a diverse and theoretically engaged group."
The Death of Aztec Tenochtitlan, the Life of Mexico City was mentioned in a piece at Patheos titled, "Juan Diego and the Indigenous Engineers of Mexico-Tenochtitlan."

Francesca Royster, author of Black Country Music, was interviewed about her book for the KXT Music Blog, where Preston Jones calls Black Country Music a "fascinating new book." Royster was also interviewed about her book on All Things Considered, and appeared last weekend on Rissi Palmer's Color Me Country. Royster's book was also included in a list at the Journal of Blacks in Higher Education of "Recent Books of Interest to African American Scholars."
Maybe We'll Make It was reviewed at The Current. Luke Taylor calls the book "Courageously frank, utterly moving," going on, "Price tells us, with breathtaking honesty and courage, her story to achieve a sustainable career as a singer-songwriter. Through all manner of struggles, humiliations, disappointments, and personal tragedies, Price maintains her perseverance despite being tested to the core." Price's book was also reviewed in the most recent issue of Mojo. Andy Fyfe writes that the book demonstrates "the gritty struggle of how to get noticed in Nashville," going on, "Now established as a favourite songwriter of Willie Nelson, Margo Price had a hard ride to where she is today, her memoir reading like a soap opera borne from a song . . . As Price's music evolved, so her wisdom grows during the book, and at its heart is stoic love: for each other, for family and friends, and above all for music and creative freedom."
Maybe We'll Make It was also reviewed in Americana Highways, where Mark Pelavin calls the book, "Compelling, honest, and powerful," going on, "Maybe We'll Make It should be required reading for anyone thinking about how music is made in the 2020's. That applies not only to artists, but also (perhaps especially) to club owners, journalists, or record company executives." Rolling Stone Italia also published a review of the book, which Google Translate tells me was very positive: "Maybe We'll Make It is one of the most rock 'n' roll stories of the year and serves to remind us, whether we like country or not, whether or not we care how things go in Nashville, what is the desire that pushes certain musicians not to give up even if the world seems to be going in a completely different direction."
Price was interviewed this week at Kirkus and on the Texas Standard, and included in a list at the Austin American Statesman inspired by Kacey Musgraves's visit to BookPeople prior to her ACL set. Axios Nashville mentioned Price and her book in their preview of this weekend's Southern Festival of Books, and the Louisville Courier-Journal also published a piece previewing Price's upcoming event in town. Additionally, Price did interviews last week with CBC's "Q", with LEO Weekly (ahead of her Louisville event), and with Interlochen Public Radio (ahead of her Traverse City event). The Northern Express also published a piece on the book ahead of her appearance in Traverse City. She was keeping very busy hours, as she also appeared on the podcast A Thing or Two with Claire and Erica.
Texas Public Radio highlighted Margo and her book in their piece on the upcoming Texas Book Festival, and Stereogum mentioned the book in their piece on a newly released Billy Joe Shaver cover from Margo.
Why Karen Carpenter Matters was also included in the Austin American Statesman's "Kacey Musgraves visited BookPeople before ACL Fest. We've got book recs." Eric Webb writes, "Half memoir, half biography of 20th-century pop icon Carpenter, [Why Karen Carpenter Matters is a] smart take on a genius woman whose memory is all too often reduced to just the tragic parts."
You're with Stupid was included in the Chicago Tribune's "Books for Fall 2022: Our 65 titles for the season," termed as "Invaluable Chicago history."
Where the Devil Don't Stay was mentioned and referenced in a piece at Forbes titled, "Can Music Help Us Rise To Climate And Freshwater Challenges?"
Country Music USA was mentioned and referenced in a piece at NPR titled, "How Loretta Lynn, country music and a rural Republican tide changed U.S. politics."
I've Had to Think Up a Way to Survive and Andrew Keen's recent conversation with the author were mentioned in a piece at Lit Hub titled, "It Was the Worst of Times. Truly."
Chican@ Artivistas was mentioned in a piece celebrating Martha Gonzalez's MacArthur "Genius Grant" at LAist.
Elizabeth Farfán-Santos, author of Undocumented Motherhood, was interviewed about her book on Houston Matters. Her interview begins around the 34th minute of the show.
The Emory Wheel published a recap of a talk by Felipe Hinojosa on material from Apostles of Change.
Before Lawrence v. Texas received its first review, from Publishers Weekly. Their reviewer calls the book, "[An] insightful account," going on, "Scholarly yet accessible, this valuable history reveals that Lawrence v. Texas was less of a 'sudden explosion' than 'a raging fire fueled by the burning embers of several decades of citizen activism.'"
A Good Long Drive was mentioned in a piece at San Antonio's KENS titled "Where you can see the hosts of Texas Country Reporter this Weekend."
Debbie Felton, author of Monsters and Monarchs, was interviewed at the New Books in Ancient History channel of the New Books Network. Introducing the interview, Liz Barrett writes, "This book is a complex and fascinating interweave of classical myth, ancient history, and true crime as manifesting in both our modern imaginations and those of generations past."
Grandmothers on Guard was also reviewed in the Journal of Borderlands Studies. Roxane Doty writes, "Drawing broadly on multiple areas of social science, this ambitious ethnographic study fills a gap in the border politics literature," going on, "Grandmothers on Guard is a significant work of scholarship whose import extends beyond border studies narrowly defined." Doty concludes, "While this is an academic study and will surely attract the attention of a broad array of social science scholars, the writing invites a broader audience. Johnson skillfully blends academic writing, with journalistic reporting and storytelling. This results in a work that engages the reader and brings the women in the study to life."
Downtown Juárez was reviewed in CHOICE. C. A. Hernandez writes, "Through his detailed narratives . . . Campbell successfully details the complexities of Ciudad Juárez that lead some people to barely survive and others to certain destruction. . . .Recommended."
Scott Bukatman, author of Black Panther, was interviewed about his book on the New Books in Film channel of the New Books Network.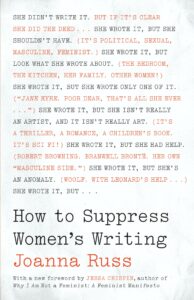 How to Suppress Women's Writing was included in a list of "10 Must-Read Joanna Russ Books" at The Portalist. Archita Mittra calls the book "a must-read feminist classic," going on, "This book is a lovely introduction to Russ' acerbic writing style, and is a scathing commentary on how patriarchal and other systemic forces have conspired to silence women's voices, not just in fiction but in other media as well."
__________________
I had a great time recapping the latest media features from our lovely authors, and I hope you had a great time reading it. Best wishes until next time, pals!